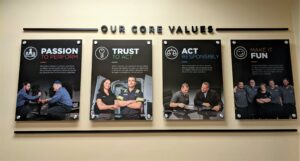 As people devised New Year's resolutions for 2022, Sign Artist installed multi-media signs to help inspire staff and visitors at Equipment Depot in Itasca, Illinois. An out-of-town sign company contracted Sign Artist to install their graphics. Signs ranged from die-cut vinyl and vinyl on acrylic panels, to dimensional wood letters and accent bars.
Workers at Equipment Depot are "equipped to serve." One glance at these carefully-selected images and text communicates the nature of Equipment Depot's niche, as a provider of large scale rental equipment. Incorporating core values and the mission of service into office decor, adds a nice motivating touch to the work environment.
An added bonus, was when Equipment Depot staff put on Christmas music and decorated their office tree nearby, setting a festive install mood for Sign Artist's crew. Happy Holidays!
If you have a vision for your business that you are seeking to convey in 2022, let Sign Artist help you make this a reality! Inspire your staff with beautiful signs. Give Ed a call at 630-594-4185.