Original Sign Artist Art & Design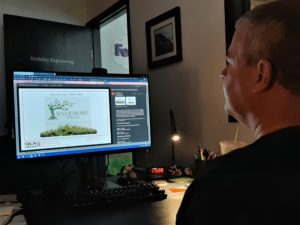 An Artistic Crew:
Sign Artist's crew includes a graphic/fine artist, photographer, former intern at the Smithsonian's National Museum of American Art in Washington DC, and a craftsman whose latest project included restoring a 1947 cedar-paneled RV into museum-quality condition.  Our family-operated business is run on strong industry standards, blending function and beauty to present our clients with stunning signage that builds businesses. Our strong art and design backgrounds make our crew  suited to creating experiential signage…the type of signs that beautify, empower, uplift and inspire. We've included a few of our designs here. A few incorporate logos/images that were presented to us by our clients, who then worked with us collaboratively to create just the right signage. Others, were designed by Sign Artist from scratch, including one award winner. Enjoy, and then give us a call to see how we might design or enhance your logo, mural, interior/exterior graphic or experiential signage.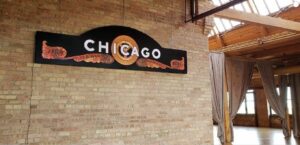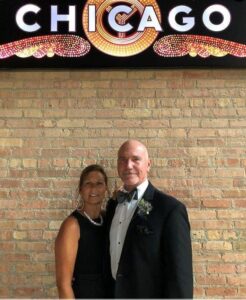 Illuminated Cabinet Sign:
Our fine artist Erin designed this stunning piece, gleaning inspiration from the art and architecture of the historic Chicago Theater in Chicago, Illinois. Hung on an interior raw brick wall, this art added a stand-out feature for a couple celebrating their wedding in a chic, downtown Chicago loft. Sign Artist hand-built the internal, wooden frame. We designed and then printed the art on high-tech 3M vinyl, which was then applied on translucent polycarbonate. This unique piece glowed with jewel tones, illuminated by strategically-placed LED lights within the enclosure. The final signature piece was 10′ W X 2.5 'H, presenting a great focal point and picture-taking spot for the gala event.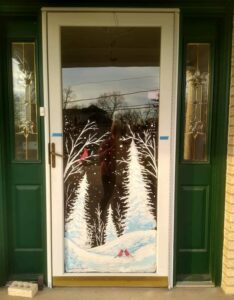 Wintry Wonder: Our designer delighted her client and neighbors by hand painting this woodsy scene in acrylic paint, on glass, for Christmas. The gentleman took one look, and arranged her artistic services for Spring, 2021. He also asked for a painting on canvas, in water color, to be wrapped for under the tree as a gift. "Signs" take all shapes and forms, and range in substrates, from canvas, glass and brick, to wayfinding and commercial signs.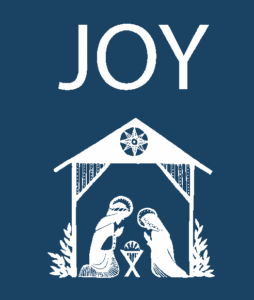 Classic Nativity: Reminiscent of paper cutting art, our Sign Artist design translated well to vinyl applied on chloroplast substrate, for an oversized yard sign. Many seeking a moveable seasonal Nativity without the fuss, appreciated this design.  The signs weathered well through the season, giving them a lifespan beyond one Christmas.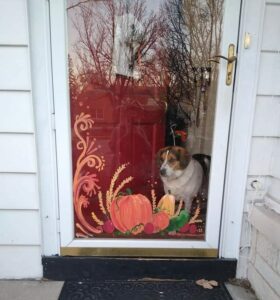 Thankful Scene: Doors are opening across neighborhoods, to Sign Artist. Our designer employed some original acrylic paint flourishes and a bountiful harvest scene, to help usher in Thanksgiving on this residential door. Such a treatment gains high marks at local shops and businesses, too, with its bright, nostalgic flair. Clients describe their vision, and then our designer Erin uses it as a springboard into creativity. It's a winning collaboration!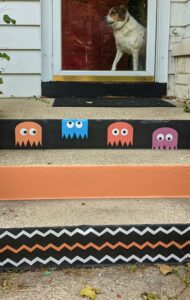 Falling into the Season:
Sometimes simple repeating patterns on a surprising substrate can make a statement. Sign Artist designed a whimsical pattern pre-Halloween, and attached it to rough concrete, as an adhesion test. The strips held for weeks, and the colors and design caught the attention of passersby. The potential is limitless, in terms of concrete decorations for a shop or residence. New high-tech vinyl choices adhere to a wide variety of rough substrates.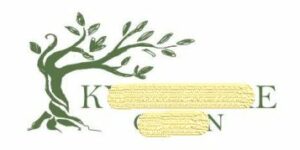 Artist's Renderings:
You can see here the collaborative approach to design, and the renderings a client may consider regarding the branding of a residential property or business. Our designer presented as options a graceful, rolling countryside, and a more bonsai-like tree image, as suggestions to get the design ball rolling. The pencil rendering is added to digital images, as a common designer's technique, in presenting art suggestions to a client. The process of matching the perfect image to brand a space, is a lot like marriage…it takes intuition, flexibility and cooperation. The result is a timeless piece that draws attention to the qualities that make a business shine.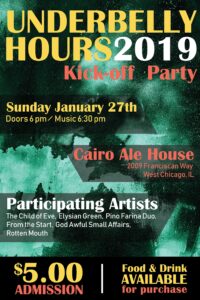 Edgy Vibe: Our artist designed this event poster for Elmhurst University's radio station, WRSE, 88.7 FM. Announcing the "Elmhurst Rock Variety" station's musical event, the piece had a cool vibe that matched the launch party's flavor. Challenges in creating such a sign are arranging all the elements in a clean, artistic, legible way. The prime goal for this piece, is to convey a lot of information about an upcoming event, and to do it in such a compelling way, that the poster encapsulates the flavor of the event — and generates an enthusiasm in the viewer. Such a response is the first step, toward a potential client or audience member making the commitment to attend such an event. If it's a return or repeat client, the poster validates and strengthens what the viewer already knows about the organization. Good branding does that. If it's a brand new client, the poster should attract and hold attention, and spur action!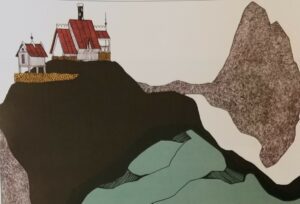 Ink and Digital Landscape: Created by our designer, this whimsical landscape style has an epic, "Lord of the Rings" vibe. It would serve as a striking experiential art note as a stand-alone piece on canvas or vinyl, or as a large-scale wall mural.  Hand drawn in ink, with shadow cross-hatching also hand drawn, the image was then color blocked by Erin  digitally. The style of the piece is timeless, although inspired by turn of the century (20th-century) illustrators.  Sign Artist would be happy to work with your design needs, to hand-ink and digitally finish a signature piece according to your vision. If you're looking for art you won't find elsewhere, we have the artist in-house to design it. Also consider thinking outside the box, in terms of substrate and application. Many people don't know that vinyl signage may be applied to exterior walls. High tech vinyl even adheres to brick and concrete. If temporary adhesion is your goal, we can apply our images to substrate that provides great visual impact for a shorter term adhesion, with easy removal.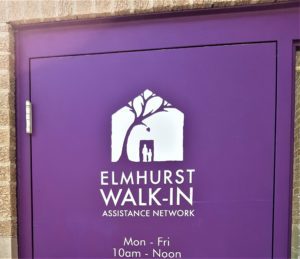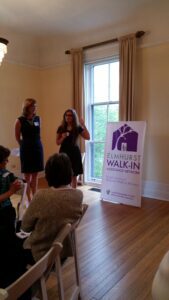 Award-winning Logo:
This original logo created by Sign Artist designer Erin, was chosen among other contenders to represent the great outreach of Elmhurst Walk-In Assistance Network, in Elmhurst, Illinois.  From the heart dropping off a barren tree, to the figures embraced by home, this image conveys the outstanding  humanitarian core of this organization. Also of note is the color, a design choice applauded by many who commented on the beauty of this branding. Erin and her logo were featured in local press, and the logo is now displayed on the main door, pamphlets, and business cards of this group.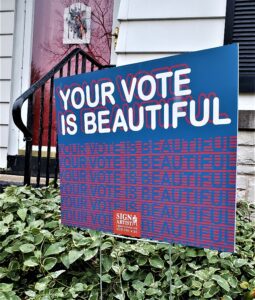 Simply Powerful: A simple yard sign makes a profound statement . Here's the perfect match of style and function in this Sign Artist original.  A thoughtful use of color and a bold proclamation echoed, makes this sign a standout. We're available to design your message in a way that passersby will long remember. Yard signs are among the most economical of sign options, and carry a lot of "bang for the buck" when placed well.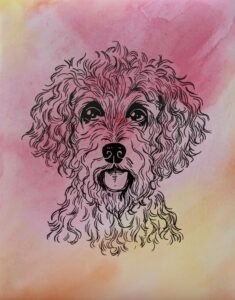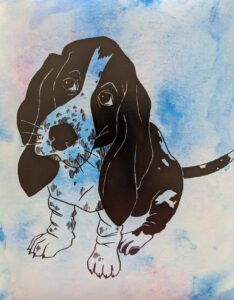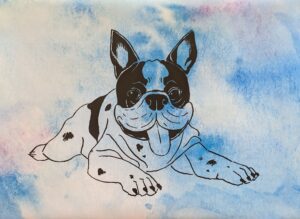 Pet Appeal: With a strong love of animals and a deft hand with pen and ink, our designer has made people laugh and even cry over her renderings of pets. She created a line of pups over tye-dye, and accepts commissions for pet portraits. Her original line of art is on display at Sign Artist studio. She was commissioned to draft character prototypes to illustrate a children's book, featuring a loveable dog that was misunderstood.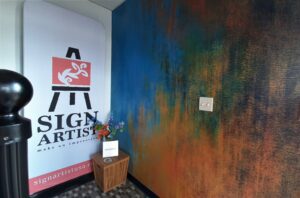 Original Wallpaper:
Crafted by our designer, this original wallpaper design reflects our primary Sign Artist color, and adds a striking, contemporary accent to our studio entryway. Printed on durable, high-tech 3M vinyl, the image features a sweep of vibrant colors. On closer inspection, a subtle burlap-like design adds interest. Although we chose to install a smooth finish, other vinyl choices include a vast variety of textures, including a faux canvas, to accent the artistic nature of the image.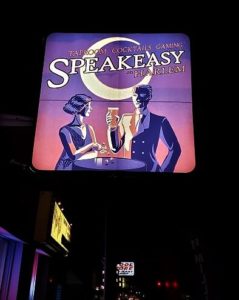 Iconic Style: Our Sign Artist designer has a strong interest in vintage art from every era, and it shows! She created this classic speakeasy look for a client on Harlem Street, in Summit, Chicagoland. The play of light and color, and strong atmospheric feel of this original art, is sure to draw attention and fresh business.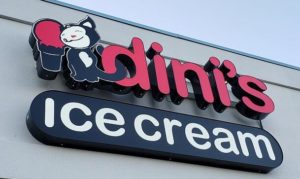 Irresistable Mascot: It helps when a client sends Sign Artist such a great mascot! Our designer was presented the cat and cone, and worked with pairing this image with an appealing font and design. The illuminated channel letters and logo anchor this shop in its Chicago suburban strip mall.  The sign pops visually, easy to spot from a block away. The charming image draws a smile from passersby, and announces day and night, a prime, family-friendly destination.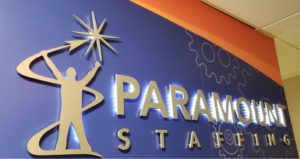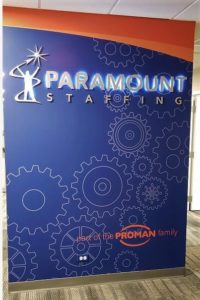 Creative Branding: When our clients provide us with intriguing logos and graphic elements, that gives us a great launching pad for creating a unique, striking affect. LED illumination, and art that reflects the collaborative nature of this staffing company, adds interest to this panel at Paramount.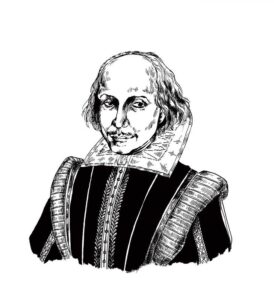 Pen and Ink Portrait: This classic portrait, hand-drafted by our artist Erin, would be appropriate in a residential, commercial or restaurant setting. He was commissioned by a Sign Artist client, and now adorns a website called "All the World's a Stage.com," which features musical artists' promotional items. If this classic style suits you, Erin could create such a masterpiece for you. The attention to detail, the fine details in this portrait, are stunning. Imagine such a piece magnified as a large-scale wall mural, or stretched on canvas and frame.  Such art would also be ideal incorporated into a reception area, or adorning a brick exterior wall. Let's discuss the options!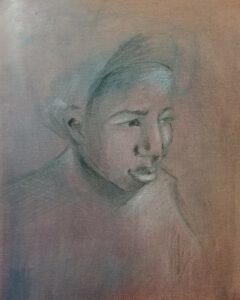 Evocative Portrait: A stunning portrait in charcoal, graphite, chalk, this would be a unique signature piece for a wide range of settings.  Created by our Sign Artist designer on coarse newsprint, this and other images like this, could be printed and stretched on canvas, or printed on adhesive canvas or other substrates for wall murals. A striking application, could be to apply this on cast material, onto a textured wall. Such portraiture can honor a special client, donor, crew or staff member, and would be memorable either mounted on a wall, or given as a gift.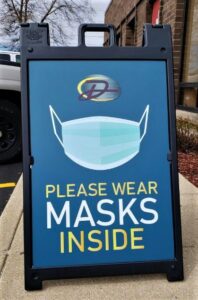 Bold & Clear: There's no mistaking the message on this Sign Artist original, which was also adapted for window graphics in a coral color. Adding the business logo to the top heightens the effectiveness of this essential Covid sign.  A no-nonsense font style plus attractive color scheme magnifies this sign's appeal. Even the mask, has an artistic quality that is unmistakable. If such a sign is needed, it's good to make one that delivers the message with style.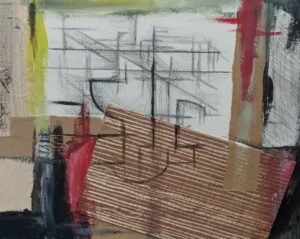 Atmospheric: This contemporary abstract would suit as a décor accent in a lobby, or even as a wall mural. An original of our designer, this piece is available through Sign Artist for printing, or we'll design a new signature piece for you. Whatever your architectural or furnishing needs, we'll meet with you (Zoom, if appropriate), to discuss our color and style needs. Such an image would work well on a smooth adhesive vinyl, as well as printed on one of our specialty or textured vinyls.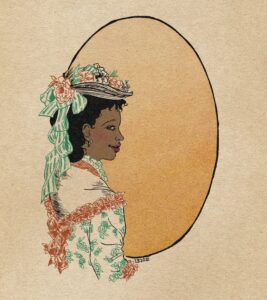 Vintage Silhouette: Our designer enjoys delving into art styles and renderings from different eras.  If a vintage look from a particular epoch is your schtick, then work with Erin in creating the art that best reflects the image of your business. Created on coarse newsprint, this image is ready to be printed on  your choice of substrate, with your business name or message. Or have Erin design a unique signature piece for you.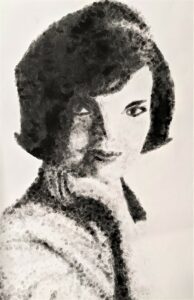 Cultural Icon: Jackie O' is our original design, creatively visualized via our artist Erin's fingerprints, dabbed in ink! Potential is limitless for how this approach could add a striking signature note to your lobby, office, studio, restaurant or corporate space. Perhaps you would like to honor a founding member of your company, or an outstanding donor. We'd be honored to create such a profile for your space.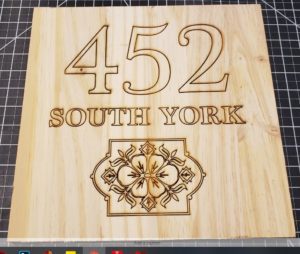 Woodworked Accent: Yes, Sign Artist can engrave or sandblast your designs into wood or other substrates. We can provide you with original hand-crafted accent pieces, according to your vision and needs. Our designer is happy to work collaboratively, to help design your signature address plate or accent piece. We will scale the project to adapt to your business or residential needs.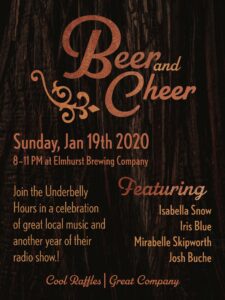 Warm Welcome: Another great poster by our designer, has all the warmth and appeal of a local pub. Erin enjoys working with restaurants, taverns and cafes, on nailing just the right approach for attracting a great audience or crowd for a night out. A careful selection of signature fonts and wood tones lends this piece its appeal.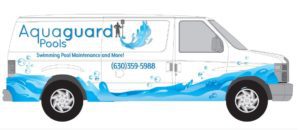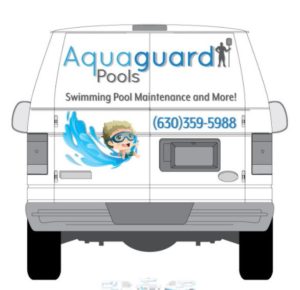 Moving Art: Vehicle graphics present a unique design challenge, as art must be designed around wheels, door frames, etc! Our Sign Artist design adds a note of watery movement and fun to this Aquaguard van, which we designed and installed. The result is easy to spot around town, gives an immediate "pool" flavor to the message, and provides contact info in a visually impactful way.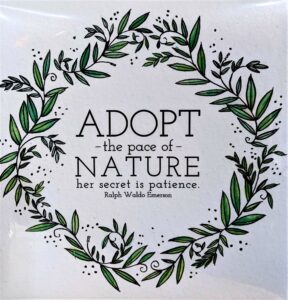 Graceful Nature: Pen, ink, watercolor wash and a good quote and font, characterize this original Sign Artist piece. If you'd like to add a touch of nature and a gentle, calming vibe to a space, art like this would do the trick. It is easy to scale, and would even make a striking epic-sized wall mural for the appropriate space.  This art is available, or have Sign Artist design one just for you.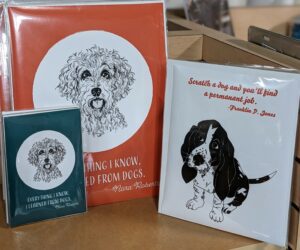 Poster Art: These Sign Artist original posters have such appeal, they could easily be framed for gifts. Hand drawn by our pooch-loving artist, Erin, with humorous messages, these would be appropriate for signage in veterinary hospitals, or in boutique and restaurant settings. Erin will hand-draw a pet of your choice and design your original poster, with text according to your preference.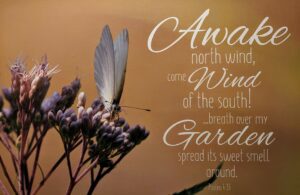 Inspiring Photography: Matching breathtaking photos with artistic quotes is a Sign Artist specialty. This particular piece is a large-scale wall art we printed and installed with adhesive canvas vinyl. The texture is appealing and conveys a fine art vibe. We have photos of every type in stock, from nature images to cityscapes. Our industrial images would be well-suited to a more urban design. We can also take professional photos on request, for your unique design needs.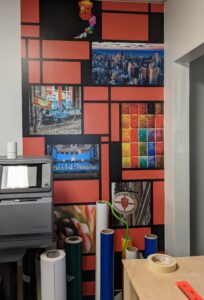 Color Block Walls: Our designer combined a collage of vibrant images with color blocks to create this great wall mural. You, too, could design such a mural, representative of your company's scope and services. We could work with your photos, or provide our own. Such a design adds pizzazz to lobbies, corporate halls and meeting rooms, and other gathering spaces.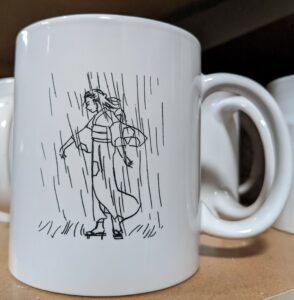 Mug Shots: Yes, you'll even find Sign Artist designs on mugs! This particular Asian-infused image has proved popular. Rendered in a breezy pen and ink style by our designer Erin,  such art is available via request, designed according to your particular vision. We can even present your art to you on mugs, if that is your cup of tea. This particular cup features an ancient haiku on back, and is available for purchase from our studio. The English major, poetry-lover, or enthusiast of all things Asian, would appreciate a gift of this mug.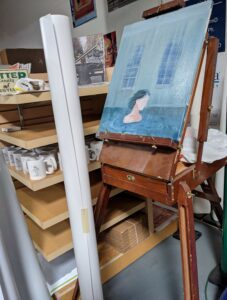 Our logo and studio reflects our artistic nature! We are a sign studio, and so much more. Our graphic designer also has her degree in fine arts, and is a talented artist, well-versed in pen and ink, watercolor and more. We have a fine photographer on staff, and our whole crew has a solid background in art and design. Let us help you visualize your space and branding needs! Call Ed at 630-594-4185, and let's get designing!