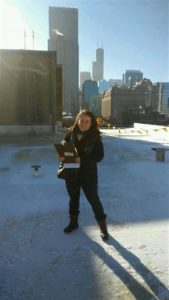 Sign Artist's crew was busily installing a 15-foot pylon sign in a Western Suburb of Chicago, when a city official strode up to check our code compliability. Had the crew obtained proper permits to revamp the sign? When the official saw our paperwork, all signed and sealed at city hall, he smiled and joined us for a photo.
Does code compliance matter? Yes, and many a business owner has discovered this the hard way. On one recent job, Sign Artist was asked to remove a beautiful 10-foot-wide channel letter sign, because the previous sign company had not followed city codes in its installation.  The improper sign looked great on the store front, but was not compatible with other storefront signs in the complex, so had to go. Sign Artist took care of removal of the old sign, and design and installation — and code compliant paperwork — for the new sign.
What's involved in obtaining proper paperwork from city hall? Owners either file for permits themselves, or hire Sign Artist to do the leg and phone work, in sending dimensional and other information, and photos of the projected sign, to appropriate staff at city offices. The process  of obtaining permits does require certain fees and can take some time, even several weeks or more. If a business owner wants his or her sign installed ASAP, then the code and permitting issues should be addressed efficiently, or crew and owner will face delays in the install.
Make everyone happy — dot every "i" and cross every "t," regarding city permits! Give Sign Artist a call for any questions about the process, and we'll smooth the way for you, ensuring that your sign will make you — and your city officials — smile.
Let Sign Artist do the legwork in obtaining proper exterior sign permits!