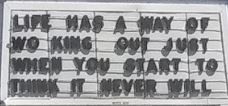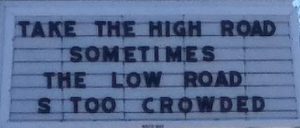 All of us at Sign Artist play a Where's Waldo? game of sorts. We spot problematic signs wherever we go! We applaud this dry cleaner in Chicagoland for posting positively and taking the "high road." He obviously takes a lot of pride in his signs, because the message changes often.
However, we also wonder if the sturdy Spring winds have whisked a couple letters to another county!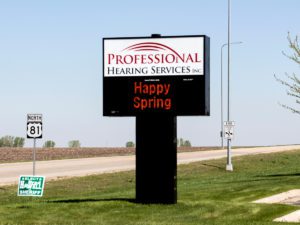 Stringing letters manually to a gigantic sign board is one way of getting a message across, and we've happily provided changeable letter signs to area clients. But a more modern approach, and one that can be easily programmed with the touch of a finger on a screen, is LED lighting.
LED signs  give an updated look, and have exterior and interior uses galore, from way finding, directory and even sports arena signage, to menu and score boards. and open/closed signs.  Wifi controller connections allows the owner of the sign to make changes to content as needs dictate.
These electronic message centers provide high visibility to your business!
Let us know if you'd like to update your look, make lettering legible and secure, and simplify maintenance, with a programmable LED sign. We'd be happy to give you a quote for your specific need and application.