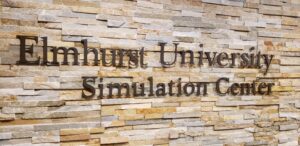 Uneven surfaces? No worries! Sign Artist installs lobby signs and can work with you to find the perfect custom sign solutions. This raw brick facade is at Edward-Elmhurst Hospital in Elmhurst, Illinois. It proved a little challenging on sign install day, but the results were stunning. Elmhurst University has a state of the art Simulation Center at the Hospital, where its medical students train. Sign Artist has fabricated and installed multiple signs at this location, including:
ADA name plates
Artwork plaque
Backlit monument sign with push-through panel
Nursing mission statement wall sign on acrylic.
This lobby sign above, over rugged brick, is 5 ft W X 1.5 ft H, made of  3-dimensional cast aluminum letters. Meticulous measuring, precision drilling and positioning, are always needed to obtain the perfect install. A little added finesse was required for this rugged wall,  since every brick juts out at a different depth. The striking bronze-colored letters proved to be a perfect contrast to the neutral earth tones of the bricks.
Sign Artist installed an updated lobby sign to help brand the Elmhurst University Simulation Center, which provides nursing students with the hands-on training they need, to be stellar health care professionals in future.
Does your business have a wall needing signage or art installed? With our skilled crew, our expertise with a wide variety of materials, and a graphic/fine artist and photographer on staff, we can work with you, to design the perfect sign solution! Call Ed at 630-594-4185.