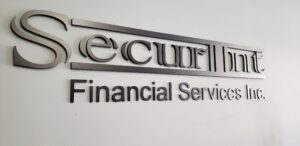 Sign Artist just installed this lobby sign at Securint Financial Services, Inc, at busy Ellston and Pulaski, in Chicago.  Mounted directly on the wall, this acrylic, matte black sign announces the business brand with impactful, 3-D custom-fabricated letters and logo.
A great lobby sign impresses clients from the moment they walk into your business. With new businesses starting, and established ones opening doors once again, it's time to review your signage needs. Sign Artist is covering multiple projects for Securint, ordering business cards, and returning to the Chicago office to install privacy film. With its corner location, Securint's windows are flooded by sunshine and the interested gazes of passersby. A frosted adhesive film that Sign Artist will install on the building's bank of ground-floor windows, will not only temper the sun's glare, it will provide a little privacy for workers within. Installing the film mid-line in the window, with uncovered strips above and below, will allow workers to view the great outdoors. It will also give potential clients just enough of a glimpse inside, to pique their interest, and attract a possible walk-in visitor.
Sign Artist can help you transform your business name and logo into a wall sign that shows you're serious about your business. If you don't have a logo, or its design needs a facelift, our talented artist/designer Erin can refresh the look — or she can design a whole, new logo for you. Styles of lobby signs range from 3-D letters anchored on walls or panels, to printed vinyl. We can illuminate your sign with LED lights, and add drama to the design. Also, consider the wide range of services Sign Artist provides. You'd be amazed at the vast range of privacy films  available, and Sign Artist happily fabricates and installs unique wallpapers, murals, and exterior and wayfinding signs, too. Call Ed, (630)594-4185, for more information about how to make your business a standout with eye-catching branding and design.