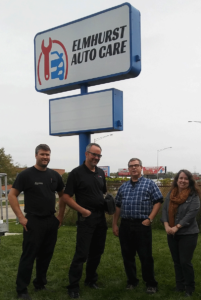 Owners of Elmhurst Auto Care updated their outdoor business sign to represent the quality of their service. They partnered with Sign Artist Inc. to update their branding.
Ed and Brad were excellent partners with whom to achieve this goal. They engaged in designing and planning the sign updates. This was key to the project's success.
Sign Artist Inc. used polycarbonate panels with cut vinyl to create the new look.  The changeable letter panels were also replaced to create a great impression.
The enhanced business sign on North Ave.  is not only brighter and easily visible to customers, it displays the updated branding.  The new logo reflects the quality of service and commitment of the team to customer satisfaction.
Compared to nearby signs on North Ave., Elmhurst Auto Care's sign is truly "lit."