Sign Artist installed this vivid awning at the new 3N's Oriental Groceries, Foods & Markets Store in Broadview, Illinois. Awnings help traffic identify businesses.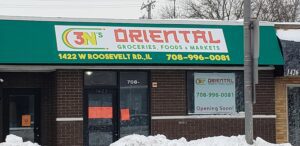 The printed canvas signage makes the business a standout along busy Roosevelt Road. The store celebrates its Grand Opening this Saturday, March 6, 2021! It officially opens to the public at noon, so go check out this great groceries/carry out food destination at 1422 West Roosevelt Road in Broadview!
To install the 25-foot-wide awning, Sign Artist designed a custom carrier. Our crew defied the weather, bringing a bucket truck and braving 1.5-foot-high snowdrifts to remove the old awning, with its faded canvas. After Sign Artist cut the old canvas from the steel frame, we mounted the frame on our truck, and carried it away, to be covered in bright, printed canvas. A fresh-looking storefront makes any shop pop.  3N's Oriental Groceries will be an appealing destination for all who love oriental cuisine. The awning is a great aid for directing customers to the shop, and for attracting new clients.
With Spring coming, it's time to put on a bright face and let an awning identify your business! Whether it's an awning, wayfinding, exterior or lobby sign, give Ed a call: 630-594-4185.