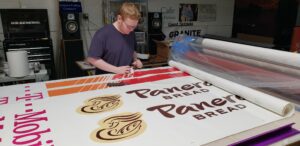 Ten Reasons to Choose Sign Artist
Repeat Customers: We have a great rapport with customers, who return to us time and again. We keep clients updated on milestones regarding their sign design, fabrication, city code application process and install information.
One-Stop Sign Studio: Businesses typically need more than one type of signage — simultaneously! It's standard fare for Sign Artist to fabricate and install a monument or pylon sign, lobby and reception signs,  office numbers, ADA Braille signs, branded privacy film and applied vinyl signage, for a new or established business with evolving needs.  We've even helped provide business cards and brochures, plus A-frame signs and banners, and wayfinding signs in parking lots and garages.
Our Materials Cover the Gamut: You want high-density urethane that resembles brick and mortar? No problem! Need ADA-compliant signs for your new business or residential building? Absolutely. You'd like an LED illuminated backlit, neon-look, or menu-board sign? Fine! Perhaps applied vinyl on windows, walls or floors? Certainly. Acrylic 3-dimensional letters or a logo carved in wood? Yes, we'll do it! Let your imagination run wild, and then contact us to explore a variety of materials and substrates to make your creative, stunning sign.
Family-Run Business: Our reputations and livelihoods are on the line, so you'd better believe we'll do top-quality work for you!
Five-Star Rating: See #4! Our customers rate us highly because we're passionate about marrying function and beauty in signage, to make our world a more visually-pleasing home for all.
Graphic Designer/Fine Artist/Photographer on Staff: Need a consultation regarding your space, and how signage will make your brand and message pop?  Our designer will happily assist you, and is available to design your logo and signage.
On-Location Service: Sign Artist will come to you if applicable, to do a pre-install visit, so all will go well on fabrication and install day.
Well-Connected: Sign Artist is a member of a consortium of 350-plus sign studios in the U.S. and Canada. This support through Sign World is invaluable, and provides a network that enables Sign Artist to serve clients outside the Chicago area. Sign Artist also taps into a vast network through the Illinois and International Sign Associations, Better Business Bureau, Blue Book Builder's Network, and Bensenville and Oakbrook Chambers of Commerce.
Contemporary and Curious: With appreciation for all kinds of signage, architecture and design, Sign Artist keeps abreast of the latest materials, applications, and style trends, while respecting time-honored traditions in sign-making, that result in fine, impactful signs.
Healthful Processes: Our high tech printer uses extreme temperatures to bond ink to substrates, instead of old-school solvents that outgas. With special regard for those who suffer from respiratory or environmental sensitivities, Sign Artist is resolved to make our signage as safe as possible. This is especially appreciated in this Covid era.
So many reasons to choose Sign Artist! Our central Chicagoland location, solid client pool, our enjoyment in working with a wide range of businesses, from neighborhood pubs, boxing gyms and veterinary clinics, to city commercial and residential skyscrapers…the list goes on. Is there a special reason not mentioned here, for why YOU choose Sign Artist? Let us know, and we'll include it in a future post!
Now, how might we serve you?