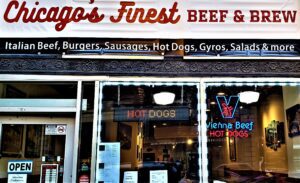 Dynamic LED signs scroll and/or flash important messages! Easily programmed, they give a business a custom, eye-catching  design element for little fuss. Sign Artist headed to Chicago's Finest Beef and Brew in the city's bustling downtown. We installed a dynamic LED strip that flashes multiple messages: "Chicago Beef and Brew," "Italian Beef, Burgers," "Hot Dogs, Salads and More," and "Now Open!"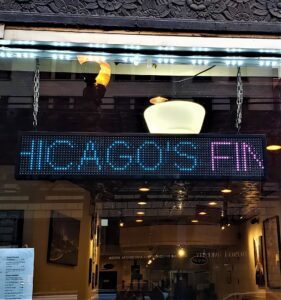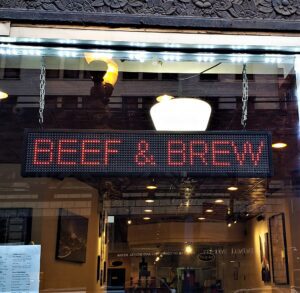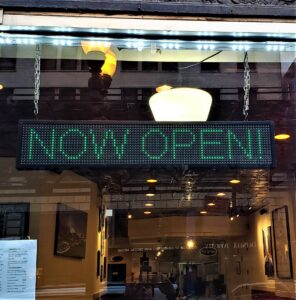 Pulsing with color, the sign efficiently highlights key attractions that make Chicago's Finest Beef and Brew stand out among its competitors. Taking up minimal real estate on the front picture window, the dynamic, LED sign choice is a winner for this hangout on 234 S. Wabash Ave., Chicago. The sign provides an immediate point of interest to captivate the attention and stir the appetite of passersby.
Swiftly and cleanly installed by Sign Artist, the sign required no laborious permit applications. The sign may be easily relocated, if needed, and also re-programmed, with whatever messages this restaurant requires.
If you're looking for a modern, bright signage solution that's a riff on neon, then consider a dynamic LED sign! They're sturdy and reliable, fun and functional. Give Sign Artist a call and ask for Ed, 630-594-4185, to explore LED options for your business.  Sign Artist also offers neon-type modular signs and digital menu boards, plus the full range of A-frame, vinyl-application, mural, monument, environmental, wayfinding and 3-dimensional signs that restaurant-owners crave. Looking for traditional neon? We can provide that, too!