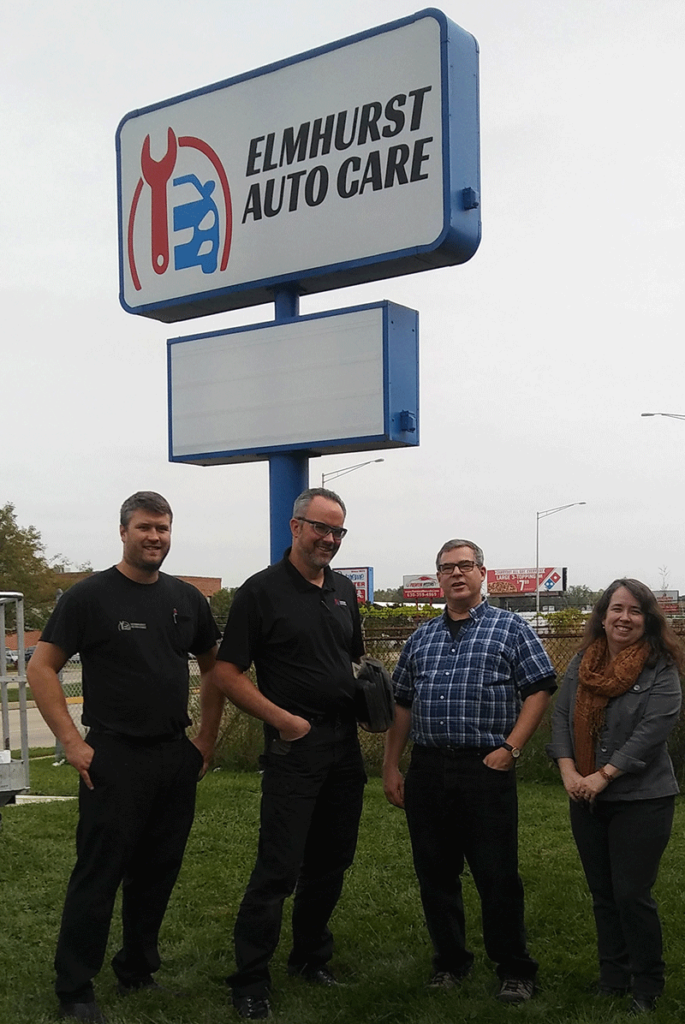 ---
Identify Your Organization & Draw Customers To Your Property
At Sign Artist we collaborate with our clients to create signs that command attention. Our designer is an artist with a Fine Arts degree. The entire Sign Artist Stuido team is eager to create your functional and beautiful signs.
We deliver your message with sensitivity and style.
Identify your business with assistance from Sign Artist Studio – contact@signartistusa.com
Make a Great Impression!         Get A Quote
---
Monument Sign Update for Arlington Lakes
Sign Artist returned to Orion Arlington Lakes Apartment Homes, Illinois, to enhance the monument sign to guide residents along the drive into the apartment complex. Our studio also designed and installed this sign.
We placed cones to divert traffic from the work site.  Careful measuring and leveling led to the placement of the paper template. We added the 3-dimensional letter strip below the sign's branding, installed by Sign Artist Spring of 2020. Can you see what important message the client requested to be added?
If you need a monument sign to guide residents, or directional signs to show visitors the way, contact Sign Artist. contact@signartistusa.com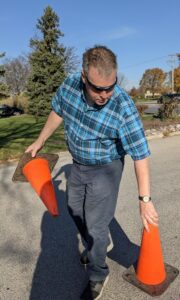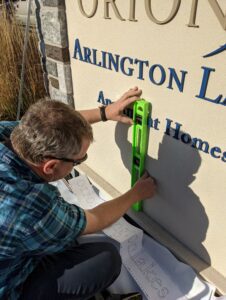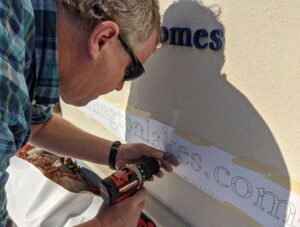 Voila! Now the two-sided monument bears important contact info, neatly added as the bottom line of script. Inserting the web address is a service to passersby, that will draw new clients. Now information about this attractive residential building is at the tip of people's fingertips, as they easily find Orion's site online. This address strip opens a world of floor plans, amenity information and images of actual units within this Arlington Lakes complex.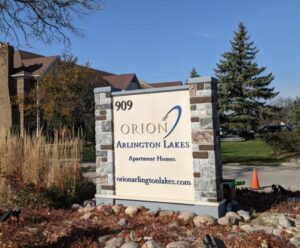 Sign Artist always welcomes repeat customers, and is happy to add graphics or text to an existing sign, or design a brand new one. This monument is eye-catching, made of the latest technology. The high-density polycarbonate expands and contracts with Chicago's harsh climate. extending the life of the monument. It's prominently located, just off of busy Golf Road in Arlington Heights.
Now is a great time to install monument signs, before the ground freezes solid for winter. What are your needs for updating or installing a monument sign for your business? Perhaps you require  a lobby, office or wayfaring sign. Give Ed a call at 630-594-4185 to discuss the options.
---
Exterior Signs Identify Your Organization And Your Location

Your Company Will Be Easy To Identify With Outdoor Signs 
LED Lighting Conversions
Monument Signs
Post and Panel Signs
Pylon Signs
Electronic Message Centers