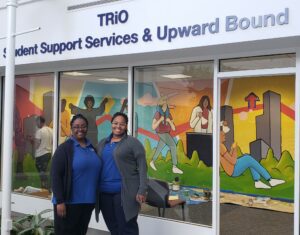 Above, happy team members at the TRIO Program, at UIC,
appreciate the new dimensional letters for the university.
Creating a vibrant and professional environment requires signs that: 1) Work well with surrounding art. 2) Blend beauty and function.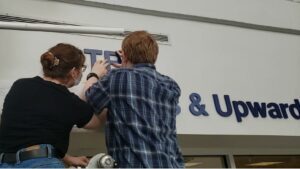 Sign Artist installed 3-dimensional acrylic letters at the University of Illinois in Chicago. The letters reflect one of the University's branding colors, and work well against the stark white wall and bright mural below.  Benefits of using 3-dimensional letter signage? They are long-lasting, easily-readable and bold, stating their message clearly. They're also available in a wide variety of materials, such as wood, cast metal, die-cut metal, gator foam, PVC, or stacked materials, that give a metallic finish effect at lower cost.
3-dimensional letters do require finesse in installing, due to the perfect measuring and placement needed for a sleek result. Such signage is one of Sign Artist's specialties, available in fonts and letters, as well as custom logos and graphics.
Our Sign Artist crew collaborates atop a ladder, for perfectly-placed results. Below, the sign-maker and the mural-painter at work, creating results that convey beautifully the purpose of the space.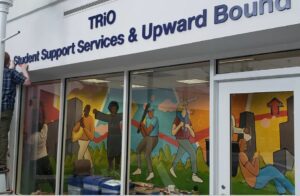 To learn more about 3-dimensional letters installed by Sign Artist, see here.