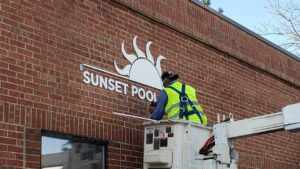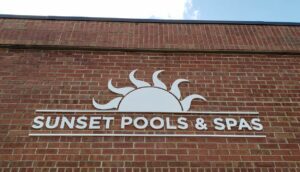 Yes, it's that time of year – warmer temps and sunny skies are headed our way! This means pool weather, and Sunset Pools & Spas provides a great service to Chicago-area  homeowners. Servicing in-ground pools is an essential service. Pools can only provide a benefit to families if the pools are maintained in a healthy and timely way. Home pools can  offer peace, calm and exercise to people at a time when all those things are in short supply. Sign Artist was happy to oversee and install the fabrication of this attractive new 3-D sign for Sunset Pools.
Sign Artist anchored the aluminum brushed acrylic sign on the brick storefront of Sunset Pool & Spas,  in its Rolling Meadows location (1675 Hicks Road). Sign Artist also installed the attractive sunburst logo inside, creating an eye-catching lobby sign. This look can be accomplished for your business, too. Options include classic silver fittings, and a more budget-friendly high-tech vinyl, that is laid over acrylic.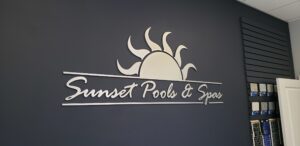 Some signs exude warmth and welcome, and Sunset Pools & Spas' sign certainly matches that description! Give Ed a call at 630-594-4185 to see how your business name and logo can be transformed into appealing signage that will attract and keep customers.