Home pools offer peace, calm and exercise to people at a time when all those things are in short supply. Sign Artist created both outdoor and indoor business signs to help advertise this local pool and spa builder.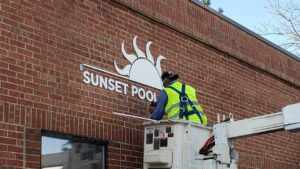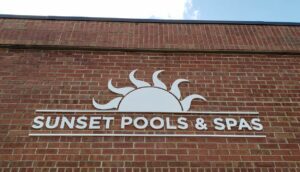 Sunset Pools & Spas provides a great service to Chicago-area  homeowners. Servicing in-ground pools is essential, and pools only provide a benefit to families if they are maintained in a healthy and timely way.  Sign Artist was happy to oversee and install the fabrication of this attractive new 3-D sign for Sunset Pools.
Sign Artist anchored both outdoor and indoor business signs securely.  The outdoor sign was mounted with studs on the brick facade in the Rolling Meadows location (1675 Hicks Road). Sign Artist also installed the attractive sunburst logo indoors, creating an eye-catching lobby sign. Custom business signs will be effective for your business, too. Options include classic silver fittings, and a more budget-friendly high-tech vinyl, that is laid over acrylic.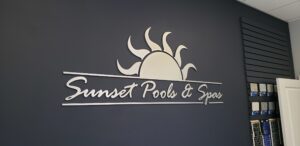 Some signs exude warmth and welcome, and Sunset Pools & Spas' sign certainly matches that description! Give Ed a call at 630-594-4185 to see how your business name and logo can be transformed into appealing signage that will attract and keep customers.