Sign Artist helped Elmhurst College re-brand as a University!  We transformed signs across campus, including the arch of the historic Gates of Knowledge shown here. This wrought-iron main entrance point to campus, is also a traditional site for graduation photos.
Sign Artist invited All Metal Group to collaborate and rejuvenate the Victorian-style arch, with its colorful cartouche at its pinnacle. The arch was dismantled, and years of battle against the elements sandblasted away. Wrought iron was newly painted, and custom metal letters were mounted.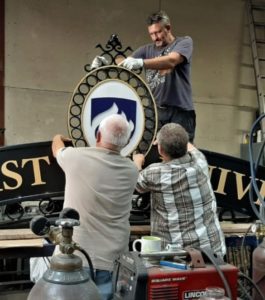 For the arch reveal on July 1, 2020, Sign Artist contracted two Chicago theatrical companies to perform a kubuki curtain drop. Grand Stage Chicago built the truss work. Drape Kings provided the 300-square-foot royal blue curtain and automated drop system. A corps of social distancing college students gathered for the dramatic event.
Sign Artist also transformed:
Directional signs across Elmhurst University campus
Lettering on trucks and shuttle buses
Five monument signs (see below)
Wood plaque for Elmhurst University Athletic Hall of Fame
New dimensional letters in Faganel Hall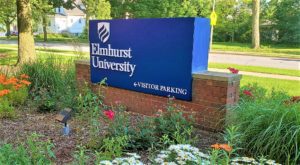 Now, how might we help brand your business? Visit us online! Signartistusa.com or write to us at contact@signartistusa.com
#signartist, #signartistusa, #signs, #universitysigns, #campussigns, #elmhurstuniversity