Sign Artist enjoys installing large-scale murals. Clients are enthusiastic about the impact of such branding! Murals give a dramatic face-lift to a corporate, retail or academic space. Sign Artist's 64-inch high-definition laser printer gives crisp, vivid results, printing on high tech adhesive vinyl. Our artist/graphic designer on staff either designs the murals from scratch, or works with client art. Our tech/print and fabrication expert works with our designer to create production files that "tile" the art. The adhesive panels overlap snugly, so a seamless effect is achieved upon installation.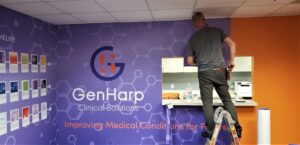 Our crew installed this epic mural at Lincoln Tech High School's cafeteria, to inspire students daily.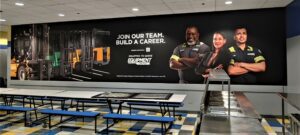 Murals don't have to reach floor to ceiling to accentuate a space. Sign Artist installed this partial wall wrap at Elmhurst University. The images portray various student activities and project a spirit of the school's lively community.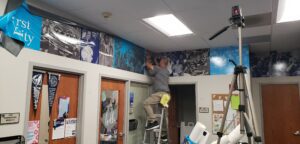 This water drop fills a wall at the Hydrosome facility in Chicagoland. The 3-D "Hydrosome Labs" letters pop from the wall, affixed by studs through the floor-to-ceiling mural.
Sign Artist has installed many murals in university, corporate and retail spaces, and is ready to install yours! Give Ed a call for more details at 630-815-5473. See what large scale adhesive vinyl art or decorative wallpaper designed uniquely for your business can do to inspire staff and clients – and generate more business! Ask about the wide range of textures and finishes available, and learn more about architectural finishes, such as faux wood or metallic adhesives. Think big, for an epic branding impact!