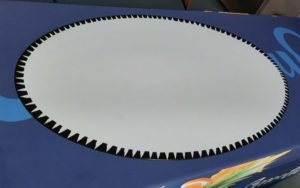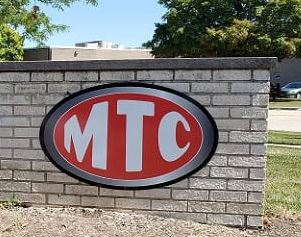 What makes signs great? Let's look at the MTC monument sign Sign Artist just fabricated and installed. Our crew clipped "darts" into the high-tech printed vinyl wrap on this Myers Technology sign back. They also brushed on a translucent sealer. Both tactics resulted in a high quality sign for this Elk Grove, Illinois machine company. Myers Technology started with a bold, eye-catching design in vivid tones. Sign Artist fabrication methods complemented the design, assuring that the sign would be smooth and durable.
With sun, wind, rain and snow beating on monument signs day in, day out, top fabrication values play a key role in making a sign last. A worst-case scenario, would be sign edges curling and fraying in the breeze! But Sign Artist standards make such a disaster highly unlikely.
This well-crafted MTC sign on our Sign Artist fabrication table, struck us as a work of art. The designer who accomplished this precision cutting and application, has her degree in fine arts. She is adept at working with a wide variety of media. She also collaborates with clients to design their own unique logos and branding. We couldn't resist showcasing her work!
Overall, this striking sign reflects the pride Myers Technology takes in the machines it offers. It also reflects Sign Artist's pride as creative and competent sign fabricators/installers.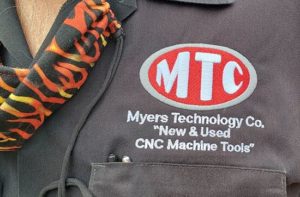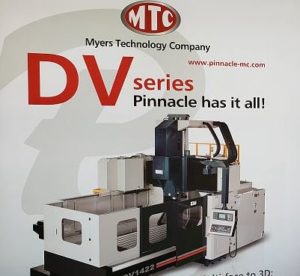 The MTC monument sign was affixed onto a classic brick and mortar substrate. Another 21-st century option, is to install monuments made of cutting-edge, synthetic materials, like the Orion sign below. Mixing materials makes signs polished in appearance, and reduces costs. When clients prefer, Sign Artist installs high-density urethane monument signs. The base is a high-tech urethane that contracts and expands with the weather. This keeps cracks and other indicators of age at bay. With no masonry work needed, costs are decreased. Such signs can be adorned by 3-dimensional letters and graphics, or printed vinyl, on an acrylic panel,
Whether classic brick, urethane, acrylic, or applied vinyl, your monument sign can shine! Check out more exterior sign ideas here. Call Ed at 630-594-4185, to discuss your monument options!