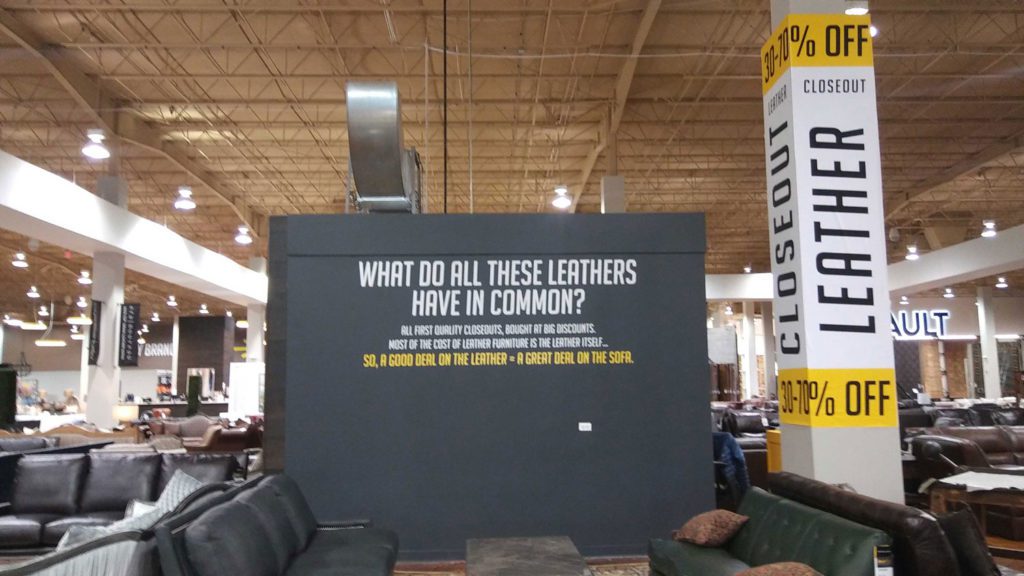 Signs sell products for you! The Dump Luxe Furniture warehouse carries high-quality leather furniture.  This furniture helps you relax while you entertain guests and family. Sign Artist's sign put the leather furniture description front and center to customers.  They easily find the products that they need.
Deals on quality grades of leather are always available at The Dump.  Leather samples in numerous colors hang below the text of the sign.  Customers look at the samples and read tohe sign to better understand their options when they think about their new living room.  Putting the information at the point of purchase effectively increases sales.
The precision-cut vinyl letters are created using our plotter.  This high-quality digital plotter turns a digital image or text into cut vinyl letters.  Sign Artist  specialists apply the prepared vinyl letters to the wall for you.  Both images and  text may be applied to the wall, floor, windows or ceiling.  Easy-to-read fonts, informative content, and precise placement result in a sign that attracts customers like a magnet and convinces them choose their next sofa and chairs!