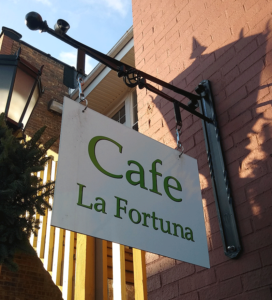 New hanging sign at Cafe LaFortuna, Hinsdale, IL
Cafe Fortuna is a favorite whistle stop in Hinsdale, IL for commuters and conversation. But it's business sign weathered one too many Chicago area winters. Sign Artist met with the proprietor and discussed her needs. The old sign was hung above the entrance to the cafe, where wind and the elements battered it relentlessly. A recent heat wave caused the lamination to slide from the sign face. Using quality 3M products, Sign Artist created the sign and matched the cafe colors using state of the art digital color spectrophotometry.
The new sign is ready for launch and Cafe Fortuna has regained it's lost identity! 
Check out our other business signs!