We enjoy spotting our Sign Artist signs out in the community. Here's one we sighted, rolling north along York Road in front of us! We managed to snap a quick photo from our passenger seat. Sign Artist fabricated and installed this branding and contact information for JPL Property Services, LLC. Clean and simple, the graphics and text transformed their box truck into a rolling advertisement. Wherever JPL landscapers drive to serve clients, they take their advertising with them.
Sign Artist is honored to help spread the good news about this local Elmhurst, Illinois company, that has been cutting lawns, snow shoveling, doing seasonal cleanups and landscaping, around Chicago suburbs since 1969. Founder and operator Jim Lithas (photos below) has put top priority on running a professional, family-oriented business. His goal is to beautify the community, by offering top landscaping services. He wears other important hats in the neighborhood, as a firefighter and an emergency medical technician. Sign Artist wishes the best to Jim and JPL, and is happy to help speed them on their way — with visuals that will help build their business!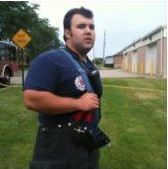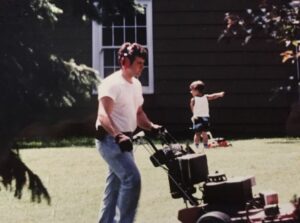 (Photos courtesy of Jim Lithas, JPL Property Services, LLC, Elmhurst, Illinois)

We can lead you through the process of designing a vehicle wrap that can be a valuable tool in building your business! We are a one-stop shop for vehicle graphics, with our in-house designer, fabrication and install team. Call Ed at: 630-594-4185.
Learn more about vehicle graphics, here.