Directional signs, also called wayfinding signs show us the way. They help us navigate in new situations. There's an artistry and logic to every wayfinding sign.  Sign Artist often installs these interior and exterior signs, including the ones shown here.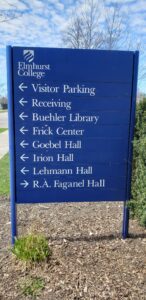 Every client looking for directional signage has basic decisions to make, including:
Message
Materials
Colors and design
Optimal placement
Sign Artist will collaborate with you in obtaining impactful directional/wayfinding signs. Your clients will appreciate your professionalism, when they see your attractive and effective signage, guiding them to the correct parking spot, level or suite.
Sign Artist printed these residential unit signs below, for Sandburg Village, in Chicago's Gold Coast. Our studio applied high-tech vinyl  onto aluminum composite sheets, to withstand the harshest elements. The sign is secured onto the exterior brick face via concrete anchors. Our client attended the install and was pleased by the result.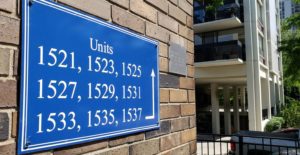 The "Do Not Enter" sign below at the North Lincoln Parking Garage in Skokie, was manufactured at Sign Artist's Bensenville studio. We  mounted this sturdy, 8-foot-wide directional using concrete anchors.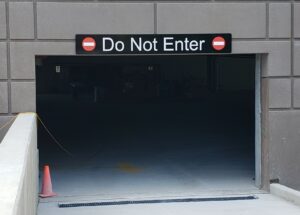 Also installed in the Skokie garage and fabricated at Sign Artist Studio, the sign below is a standout, due to its bold font and attractive color. Sign Artist made signs for Levels One through Six. Incorporating a rainbow of colors, helps visitors recall the location of their parked vehicles.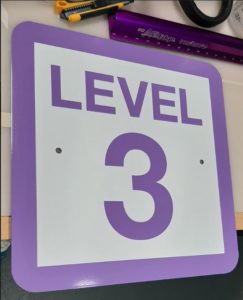 Another look for directional signage, this parking sign below was installed by Sign Artist at  Canal Plaza, a South Archer retail building near Chinatown in Chicago. This digital print on a brushed aluminum substrate makes a refined statement.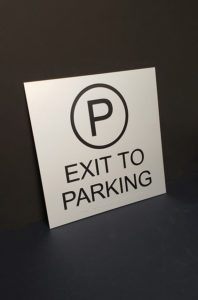 This framed evacuation plan, installed at The 1201 North Clark building at Clark and Division in Chicago, is a crucial wayfinding sign. Every directional sign is important, but some provide information that clarifies a life and death decision for the viewer. Sign Artist also erected more than 200 ADA braille, directional signs at this landmark building.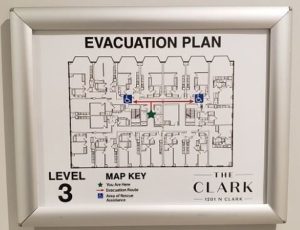 Overall, directional/wayfinding signs ease stress. They guide clients to the correct location efficiently. This results in fewer late arrivals, and a better customer experience. Call Ed to discuss your signage needs: 630-594-4185.