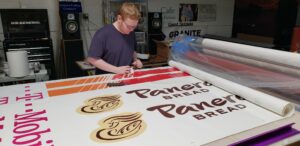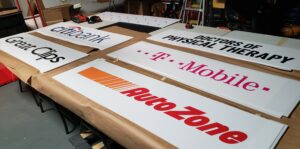 This week, Sign Artist completed our largest project for Westwood Financial, a national commercial real estate developer. Our crew fabricated multi-tenant sign panels for a 16-foot pylon sign at Elk Crossing Shopping Center, Elk Grove Village, Illinois. The applied vinyl on polycarbonate panels replaced old signage that was faded, peeling, and with outdated logos.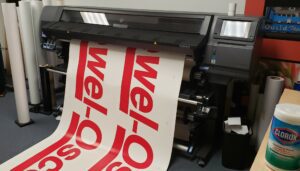 The reveal of the new sign includes a striking image of an elk, apropos of the shopping center's theme. Well-known signs and logos from Panera Bread, Jewel-Osco, Great Clips, T-Mobile, Auto Zone, Citibank and Doctors of Physical Therapy, filled our studio this week, until thepanels were successfully installed yesterday. The result is a nice, clean look for Elk Crossing!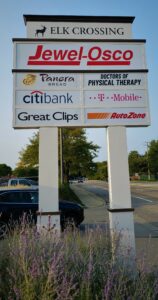 Before our Elk Crossing project, Sign Artist was asked to arrange for a Covid-19 curbside pickup base and post sign for Elk Crossing Shopping Center. Sign Artist installed this colorful trio of directional signs Westwood Financial, clearly marking curbside service for the shopping center visitors.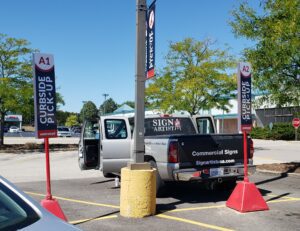 The project was unique, in that the foundations of four signs needed to be filled with 600 pounds of sand, to keep them stable! That put a new twist on the sun and sand concept, for our father-daughter crew that day.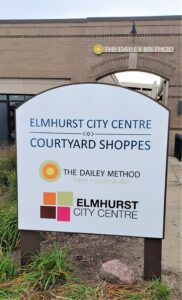 Westwood first contacted Sign Artist pre-Covid era, after finding us online. This management corporation asked us to install a small directional sign for shops at picturesque  Elmhurst City Center in downtown Elmhurst, Illinois.
Our favorite thing to do, is to provide multiple signs of all varieties to our happy repeat customers. Now…how might we serve you?