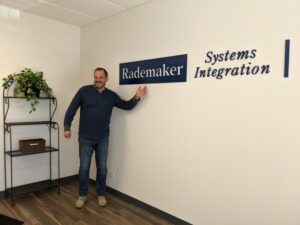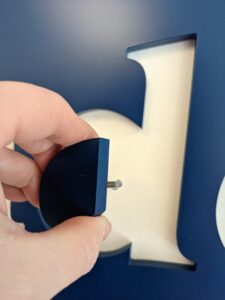 Doug, at Rademaker's, strikes a happy pose, after Sign Artist installed his new
entry sign at the Lombard, Illinois office of this Dutch-based company.
Rademaker's logo lends itself perfectly to a 3-d format! Simple lines, but
attractive and well-designed, the striking navy art strip nicely suits this bright
entry space. Sign Artist adhered the art to the wall with studs, for secure and
long-lasting impact.
Our studio also fabricated and installed an aluminum composite doorbell sign,
and bold adhesive vinyl lettering for the back "man door."
A bonus for the Sign Artist crew? A friendly meeting with "Indiana,"
the Australian Shepherd office mascot (named after adventurous Indiana Jones)!
Interested in how 3-d acrylic or other signage can spruce up your interior or exterior
business space? Give Ed a call at: 630-594-4185.