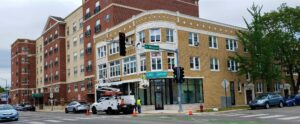 An unusual request came to Sign Artist, from a new medical spa opening in a prime location in Chicagoland. "Sparkle Aesthetics" had ordered illuminated, custom 3-dimensional letters from a craftsman in the nation of Turkey. The metal letters arrived in all their  retro glory, reflecting the  "Bewitched" TV show style of the 1960s.
Because the letters were fitted with a power supply from Turkey, the lights wouldn't operate on U.S. current. Sign Artist rewired them and provided the appropriate electrical fittings. The second challenge was to provide a custom-built backing for the letters,.
Sign Artist loves a challenge! We scaled a ladder at the building site, and hand-bent aluminum panels against the irregular exterior, to serve as a curved template. Back at the studio, we fashioned the aluminum composite substrate into the perfect curve, to nestle against the masonry facade of this historic Oak Park building.  Teal vinyl applied over substrate completed this vibrant sign, which was fabricated and installed in time for Sparkle Aesthetic's  grand opening!
Have a unique signage need? Call Ed at 630-594-4185, or fill out a contact form at signartistusa.com. It's the perfect season to install exterior signage that will really "sparkle," and attract new business!