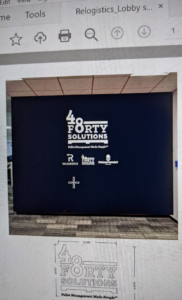 From Sign Artist computer rendering of the client's art, to reality…
  "Sign Artist did a great job with new signage at one of our offices. They were accommodating to our rushed schedule and were able to complete the job before our brand reveal. Would recommend them!" — Samantha Heitov, Relogistics, Google Review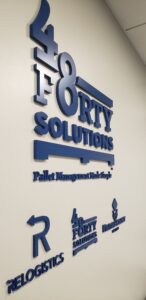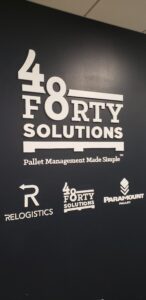 Dimensional Acrylic
Explore multi-branding one space with Sign Artist fabrications and installs! Samantha Heitov with Relogistics contacted Sign Artist regarding multiple signs for a sizeable Chicagoland office suite. Sam and her client worked with Sign Artist to choose dimensional acrylic, adhesive vinyl and die-cut privacy film, to help transform Prime 360 into 48Forty Solutions, with several branches. Dimensional acrylic that Sign Artist applied with studs and silicone enhanced the office lobby space and conference room in 48 Forty Solutions' Schaumberg office.
Out with the old…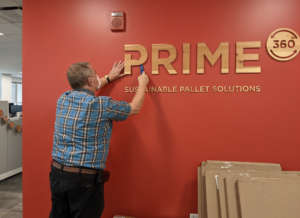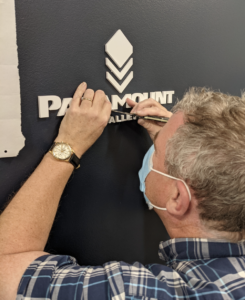 Sign Artist removed the old wood dimensional letters and logo off the original red walls. A fresh coat of blue helped the new white dimensional art pop. Dimensional signs are a great way to brand your office with Sign Artist.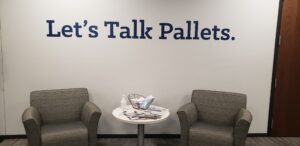 2. Adhesive Vinyl
48Forty Solutions chose to go with flat adhesive, die-cut vinyl from Sign Artist, to create an inviting chat space in its reception area. Vinyl can be printed in any design, and is available in a rainbow of solid colors, allowing for large-scale art to have an impact similar to dimensional — for a lesser price.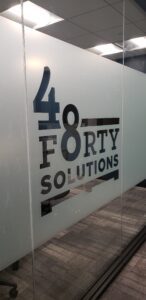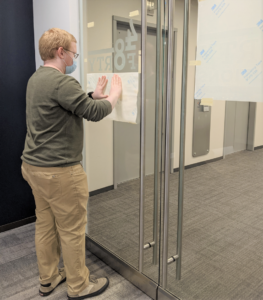 3. Privacy Film
Practical and decorative, frosted privacy film was fabricated and installed by Sign Artist to add privacy to 48Forty's conference room. It also added pizazz to the main door, branding this business in a sophisticated way, that allows clients visibility into the newly-refurbished office, at their approach.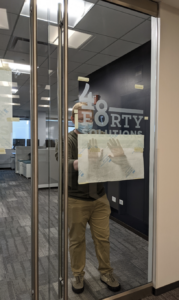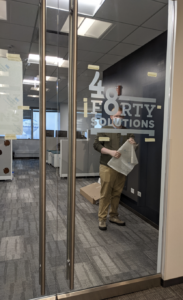 Let Sign Artist help you with all your signage needs! Brand your office with Sign Artist to find fresh ways to attract clients through signage. Call Ed at 630-594-4185 for a free consultation regarding your business brand needs. Let some of the first signs of Spring, be yours!