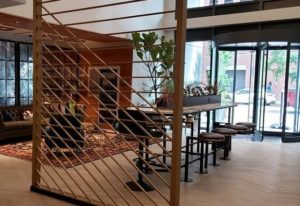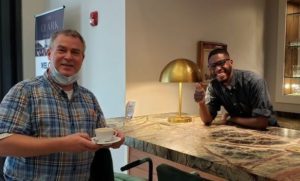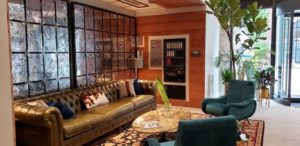 Sign Artist is proud to help transform a former historic parking garage in Chicago into a stunning residential property. In the heart of Chicago's Gold Coast, Sign Artist helped equip Latsko Interests' new property. Our studio fabricated and installed 200-plus custom signs.  This vintage brick building received the following: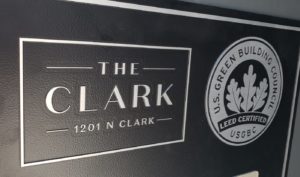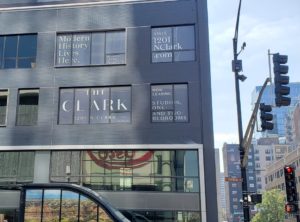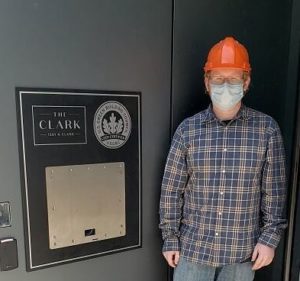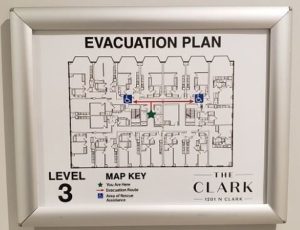 Perforated vinyl graphics covering 3rd-4th floor windows
Nearly 200 ADA signs
Side-lit LED channel address numbers atop main entrance
Engraved aluminum plate for intercom system
Framed evacuation plan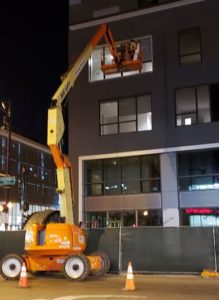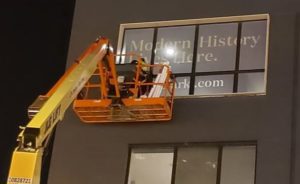 The day of the window install, 35-40 mph winds added some excitement. Sign Artist's crew waited to ascend in the 65-foot-tall articulated lift. Finally, winds eased and they were good to go up and get the job started — around 10 PM! They completed the job around 2 AM. Mid-way through, pedestrians stopped to compliment our crew on the great-looking signs.
The sun rose to the newly-wrapped building at 1201 N. Clark Street. The graphics provide eye-popping visibility for contact information and rental unit availability. Perforated vinyl is also a high-tech material of choice for clients seeking high-profile window signage, that provides privacy, while allowing clear visibility from inside the structure.  Addressing sign needs covering a vast array of materials and applications, makes Sign Artist a one-stop shop for clients like Latsko.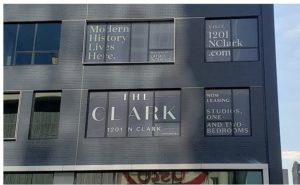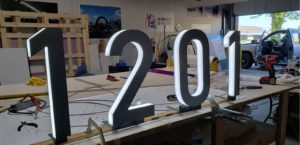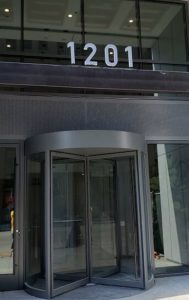 One unique challenge, included designing and installing the illuminated LED entry numbers. Affixing the numbers securely into a steel beam, meant fabricating and bolting into place a custom sub-assembly.
Another unique element, included an original design for multi-floor ADA room numbers. Precision laser cutting acrylic created the ADA braille "bumps" and numbers. Sign Artist applied translucent taupe vinyl with a contemporary pattern to the back of the signs, adapting them to 1201 Clark St. decor.  How might we help you uniquely brand your residential unit or business?