Designed To Last
You will see a wide array of materials, printing technology and installation possibilities. The signs of today look more refined than those of the past. Our scratch-resistant latex printing, meticulous color matching, and precision cutting result in sleek finished products.
Indoor Signage Solutions
Lobby and Reception Area signs express branding
ADA compliant signs are easy to read for everyone
Wayfinding signs guide staff and clients
From directional signs for visitors or identifying signs to promote your brand, our team will help you with all of your interior signage needs. Whether your space is new or you are updating,  our designs communicate your re-branding and renewed energy.  
An Office Sign Solution
Sign Artist fabricated and installed custom brushed metal lobby signs for a hub of medical associations in Chicagoland. The Musculoskeletal Tumor Society, American Shoulder and Elbow Surgeons, The Hip and Knee Societies, and other medical associations at the  sleek Schaumburg Corporate Center, opted for brushed aluminum seals to display their identities and specialties.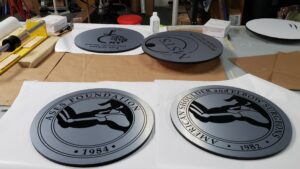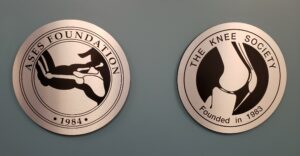 The six seals boldly catch the light, and are visible far down the hallway. Artistic black logos on silver finesse these signs, and deliver essential graphic messages. Any observer can see at a glance the wide scope of specialties represented by the associations at this site. By their nature, such brushed metal seals instill confidence in the viewer, that these are associations that are professional and respected.
A Sense of Direction – Effective Wayfinding Signage Is Key to Navigation
We've all been there: visiting an unfamiliar office park for the first time, desperately looking for some clue of where we are. The entrance signs are too small, or placed out of view, and we waste precious minutes attempting to find our final destination. This is what Sign Artist Inc. wants to help clients with: effective wayfinding signage.
Making your business accessible to everyone is also a by-product of effective wayfinding design. Large, easy-to-read fonts, and ADA compliance where applicable all work together to assist those of your customers who need them. 
No matter how artistic and attractive a wayfinding sign is, it is not a good design if it is illegible, or unnecessarily  complicated. The old Graphic Design rule stands: the most beautiful designs combine form and function. That means, they should be just as practical as they are pleasing to the eye.