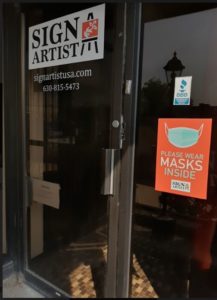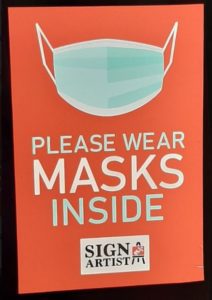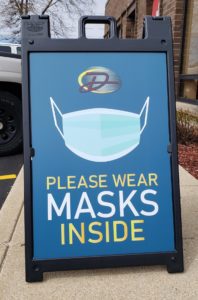 It's hard to believe that it's time for a second generation of Covid business signs, but truly — the signs we're seeing out in our Covid-era world are looking weary. Do you have a special safety message to convey? An announcement that you're open and serving curbside? Special directionals for your employees or clients? Whatever your need, Sign Artist has pre-designed Covid signs.  We are ready to add your brand. We also have our graphic designer/fine artist on staff, who is happy to work with you to design a look all your own.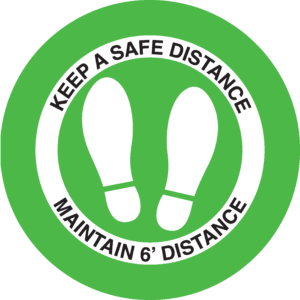 It's a tough and troubling time for us all. Keeping a business up and running is courageous! We believe that calls for heroic signage. Let us brighten your day by printing your Covid signs in eye-catching colors, and giving them a unique twist for your business. To keep our own crew safe, Sign Artist incorporated its custom mask design, company colors and logo, to ask our visitors to don this essential item.
What are your needs? Browse our gallery of Covid signs, or contact us with your own unique vision for commercial signage. Wall signs, window and door graphics, floor wraps: all will get your message across in a vivid, compelling way. Let's weather this time with some good design, and invite others to keep safe and well, too.