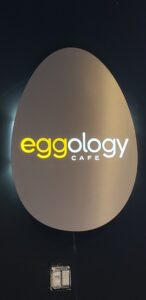 Eggology earns Grade A for this creative illuminated lobby sign design! Backlit with LEDs, and custom fabricated and installed by Sign Artist, this new restaurant sign in South Barrington, Illinois, is hung and ready to roll. This fresh branding sports a playful yet elegant shape and color scheme, that pop from the anchor wall.
Photos below show the final stages of fabrication at Sign Artist's studio. Our crew took special delight in the creativity and finished product of this sign! Materials include brushed-metal and translucent vinyl, and LED lights, fitted into a custom cabinet built at the Sign Artist studio. The result is a contemporary take on restaurant signage, and an unforgettable branding. With its economy of lines, this 3-D sign shows that simplicity can be ultra-creative, eye-catching and chic.
Sign Artist was happy to see Pete, restauranteur and owner of eggology, post his enthusiasm on Instagram, with the comment, "Illuminated sign turned out better than we imagined!" His replies featured a thumbs up and "so cool!!!!" Another post on Pete's Instagram reads: "Create a vision that makes you wanna jump out of bed in the morning." Sign Artist is happy in the part we played in adding to the visuals of Pete's creative and tasty vision! We wish eggology much success!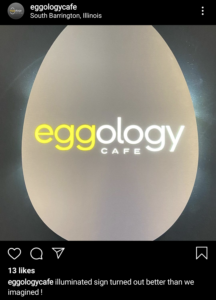 Look for the opening of this Chicagoland restaurant Spring of 2021!
If you have a unique design in mind and would like help in seeing it hatched, give Ed a call at Sign Artist: 630-594-4185.